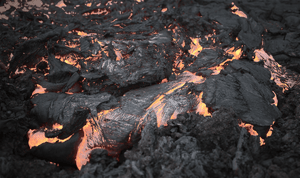 MADE LIKE IRON...SPECIAL RESERVE COFFEE & CHOCOLATE
What makes Made Like Iron a Special Reserve Coffee?  Our micro-lot, sustainably farmed coffee is grown in the perfect growing conditions on the slopes of the Mauna Loa volcano on Hawaii's Big Island.  Our artisans hand-select only the huge, red ripe coffee cherries and then carefully curate each bean to maximize the brown sugary flavor with citrus and floral notes.  We roast each bag when ordered to a medium, golden brown locking in the quintessentially Hawaiian coffee flavor and maximizing the antioxidants.  In 2010, we achieved the pinnacle in coffee growing, being named Coffee Farm of the World.  Our 93 point rated coffee is the richest, smoothest coffee you will ever taste.  Now we are partnering with renowned, award-winning chocolatier Maverick Chocolate to curate our new Made Like Iron Special Reserve Hawaiian Coffee Dark Chocolate Bar.  
Mahalo for allowing us to serve you and your family!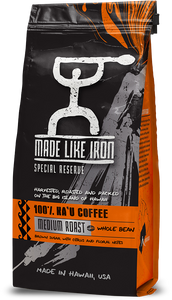 OUR MISSION...TO FUEL YOUR FIRE WITH THE BEST COFFEE PRODUCTS IN THE WORLD
At Made Like Iron, we are singularly focused on producing products based upon our world-class smooth and rich Special Reserve Coffee. It's a sustainably farmed, artisan coffee that is harvested, roasted and packaged on Hawaii's Big Island. Our farm, located on the southern slopes of Mauna Loa volcano in the Ka'u District near Volcano National Park, yields ideal growing conditions for our coffee trees.  Made Like Iron Special Reserve is a single-origin, micro-lot coffee that grows at high elevation in lush volcanic soil.  Hawaiian sunshine and cool breezes combine to produce our award-winning beans. We only pick the red, ripe coffee cherries and carefully extract the beans which we naturally dry in the bright Hawaiian sunshine.  We roast to order in micro-batches of less than 20 pounds so we can protect the exceptional quintessential Hawaiian coffee flavor profile, described as: "brown-sugary sweetness with citrus and floral notes". You'll notice our beans are medium brown and dry with no oily sheen, the sign they are perfectly roasted – the coffee essence is still in the bean.
Buy Now
MADE LIKE IRON...100% KAʻU COFFEE
Made Like Iron Special Reserve Coffee is grown exclusively at our award-winning farm in the Kaʻu region of the Big Island of Hawaii. We picked Ka`u vs. Kona for our farm because in Ka`u, we were able to plant our coffee trees at the ideal elevation in volcanic soil forged by fire over millions of years. The high elevation combined with the increased potassium content of our soil result in beans that exhibit an exceptional flavor profile. Blended for optimal versatility, Made Like Iron Special Reserve is perfect as an espresso, latte, cappuccino, or a straight brew – hot or cold.
SMALL REGION. BIG FLAVOR
Kaʻu, the southernmost region of the Big Island of Hawaii, is famed for its active volcanoes, black sand beaches, and excellent coffee-growing climate. Located on the southern slope of the Mauna Loa volcano, Made Like Iron's select coffee fields are planted in rich volcanic soil at an elevation between 1,600 and 2,500 feet. Bright Hawaiian sunshine and cool Pacific breezes combine together to produce huge, red ripe coffee cherries that contain our award-winning coffee beans.
Buy Now